Computer and network systems are the most important part to maintaining communication with the outside world. You should only have to worry about running your business, we can take care of your tech support and much more.
We can offer you the piece of mind knowing that your systems will run smoothly whether we are providing support over the phone or in person. Whatever your business, we help you achieve your business goals by making technology work for you. We provide consulting and computer support services so you no longer have to worry about technology headaches.
Give us a call and tell us how we can help.
We are happy to help with your computer and network needs..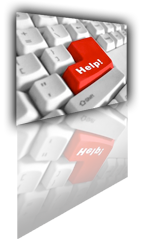 We offer the following services:
Remote and On-site Support for Business and Residential Computers
Computer Software Support
Computer Repair and Upgrades
Network Support (Wired and Wireless)
Voice and Data Cabling
Custom Systems
Backup Solutions
Security Camera Systems
Modem and Firewall Installation